Welcome to our website!
---
The Puppy People Rescue Inc. is a non-profit 501 (c) (3), all volunteer, family run rescue group dedicated to saving the lives of canines. We specialize in mothers and puppies however, we rescue all breeds and ages of canines that have been abandoned, abused, neglected, and in need of rehoming.
---
Make A Donation!​
The Puppy People Rescue Inc. is a 501 (c) (3) non-profit organization who relies solely on the public's generous donations in order to continue with our efforts.

Your donations allow us the opportunity to provide these animals with a good quality of life until they are adopted. Your donation will help make all the difference in the lives of these animals!

If you wish to send a donation in the form of a check, please mail it to the address below.
112-A Argus Lane #102, Mooresville, NC, 28117

No amount is to small! Even $1 helps make a difference!​

***DONATIONS MADE ARE TAX-DEDUCTIBLE BUT ARE NON-REFUNDABLE***
​

​If you would like to sign up for the automatic monthly donation, please choose an amount below and click the "subscribe" button.
​
OR

---
---
Puppy Training Tips!
Getting ready to adopt a new puppy? Adopt-a-Pet.com's "The Puppy Manual" is not a complete guide to raising a puppy – there are entire books devoted to that topic! However it is a super-helpful and concise 21 pages covering the basics, to help you prepare for the arrival and first few months with your new puppy. The basic training, socialization, and guidelines explained simply with many easy-to-follow steps can be used starting at the age of 8 weeks, the earliest age at which most people would be bringing a puppy into their home. If your puppy is slightly older, as long as they are under 6 months old, these steps can still be helpful! For puppies older than 6 months, many of these tips still apply.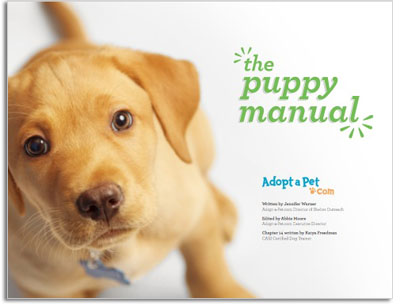 If interested, please click on photo to get started!
---